Wer meint, bei den Floating Lamps von Crealev handele es sich um eine optische Täuschung, der liegt falsch: Die beiden Abschnitte der Lampe berühren sich tatsächlich überhaupt nicht; alles basiert auf einer raffinierten Technologie, die mittlerweile zum Spezialgebiet und Markenzeichen des niederländischen Labels geworden ist.
Elektromagnetische Komponenten sorgen dafür, dass sich die der obere Teil der Lampe von dem unteren Teil abstößt und gleichzeitig in Position gehalten wird. Der Einsatz von dimmbaren LEDs macht die Floating Lights darüber hinaus äußerst stromsparend.
Das Modell Silhouette #1 ist eine Neuinterpretation der klassischen Tischlampe, während Eclipse #2 ein Stück weit cleaner und futuristischer wirkt.
Crealev wurde 2006 von Angela Jansen, Absolventin der renommierten Design Academy Eindhoven, und von Ger Jansen, einem Maschinenbauer und Elektrotechniker gegründet.
---
Click here to read this article in english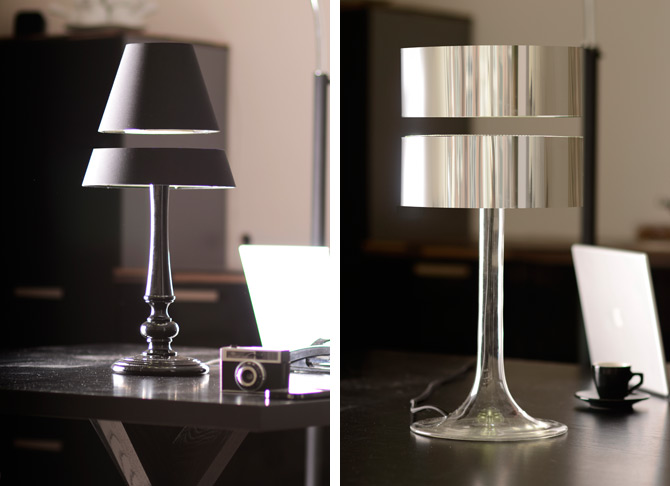 All images copyright protected and courtesy of Crealev
How Crealev describes the Floating Lamps:
"The Silhouette and Eclipse were designed by Angela Jansen, a Design Academy Eindhoven graduate, and developed by Ger Jansen, a mechanical and electrical engineer. Together, they run the Floating Lamps, by Crealev. The floating elements amplify the effect of what appears to be an illusion until you get up close. It is only then that you realise how clever this design truly is.
These reinventions of the standard lamp combine cutting-edge technology with classical forms to suit any interior. To levitate and illuminate, the lamps are packed with futuristic electromagnetic components and LEDs and, yet, appear as elegant and light as a feather. Available in two new energy-efficient models: 'Silhouette' and 'Eclipse'.
Thanks to the fact that they employ the very latest LED and electromagnetic technology, they are extremely low in power consumption too. And, at the same time, both Silhouette and Eclipse are very practical lamps that can be dimmed to the intensity you require."