Dass man mittels Rapid Prototyping komplexe Gebilde schaffen kann, deren Konstruktion in reiner Handarbeit entweder extrem zeitintensiv oder schier unmöglich wäre, wurde hier bei Daily Impulse ja bereits anhand einer Reihe von Artikeln über 3D-Druck unter Beweis gestellt. Die Designerin Lilian van Daal machte sich für ihre Abschlussarbeit an der Royal Academy of Art in Den Haag darüber hinaus auch noch die Flexibilität von 3D-gedrucktem Material zunutze und schuf damit das Konzept für einen Sessel, der nicht nur bequem, stabil und optisch außergewöhnlich ist, sondern zudem auch noch etwas zum Thema Nachhaltigkeit beiträgt!
Der "Biomimicry: 3D printed soft seat" besteht im Gegensatz zu herkömmlichen Sesseln aus nur einem einzigen Material, so dass keine zeit- und kostenintensiven Transportwege für die Bereitstellung der Rohstoffe entstehen. Auch der Recyclingprozess würde durch den Einsatz eines einheitlichen Materials deutlich vereinfacht werden.
Hinsichtlich des Designs ließ sich Lilian von Daal vom Aufbau von Pflanzenzellen inspirieren; sie experimentierte mit verschiedenen Strukturen und deren Eigenschaften in Polyamid um herauszufinden, welche davon für ihre Idee genutzt werden können. So besteht die Sitzfläche aus vielen dünnen Strängen, die unter Belastung nachgeben, während robuste Stellen eine höhere Materialdicke und -dichte aufweisen. Das Polyamid soll in Zukunft aber durch ein pflanzliches Material ersetzt werden, um den Nachhaltigkeitsgedanken optimal zu unterstützen.
---
Click here to read this article in english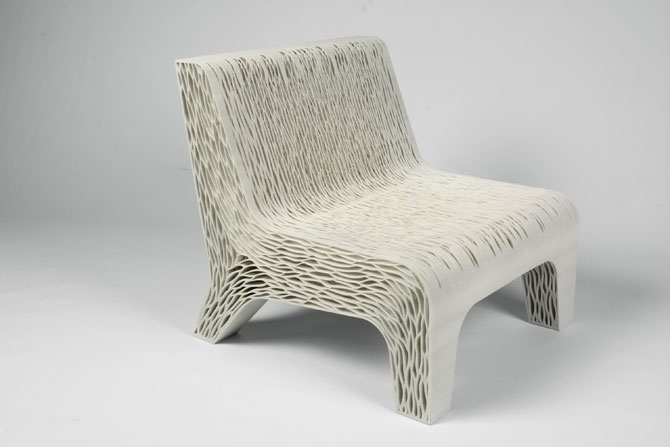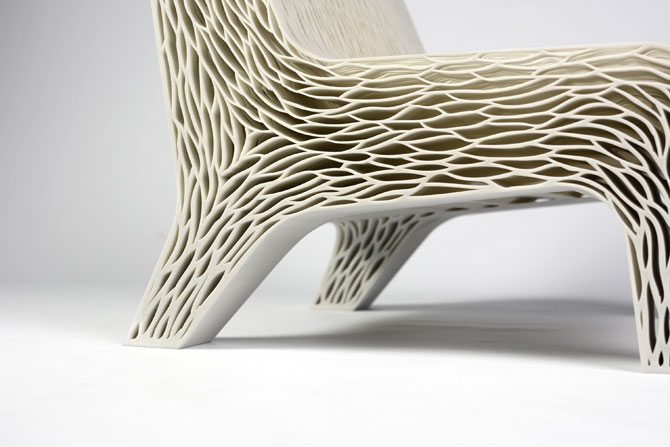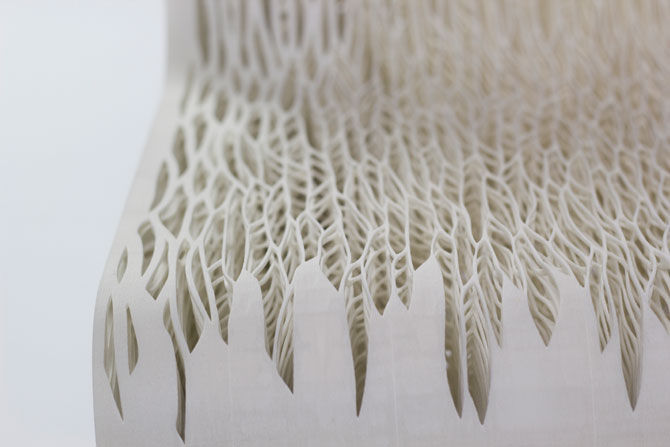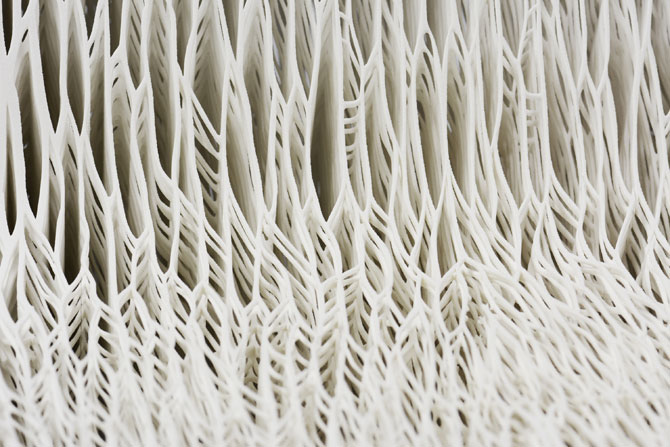 Product images copyright protected by Martin Jansen. Process images copyright protected by Lilian van Daal.
How Lilian van Daal describes Biomimicry:
"The production of softseating is far from sustainable. It is made from many different materials – wood, plastic, metal, foam and fabric. These materials are prepared for assembly in separate factories. This environmentally unfriendly assembly makes recycling impossible.
Biomimicry: 3D printed soft seat is a new concept to make production more sustainable by means of 3D printing. Following research into structures taken from nature, it is possible to realize various properties from one material. By varying the structure in several places within the product, it is possible to create the load-bearing construction, micro and macro support, ventilation and skin of the product from one material. Pollution caused by transport can be minimized and the product is completely recyclable."